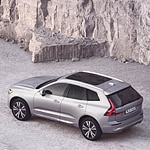 The Volvo XC60 might be compact, but it's huge on interior space, a well-tailored yet minimalist cabin, cutting edge capability and tech. Its safety features are also advanced and dynamic. Our team at Volvo Cars Ontario looks at two such Volvo XC60 safety features below.
Day or Night Pedestrian Detection
The Volvo XC60 remains on alert when you drive, scanning the road ahead of you and alerting you to possible collisions with vehicles or pedestrians. If you can't slow or brake in time to avoid impact, the Volvo XC60 brakes for you, avoiding or minimizing the outcome.