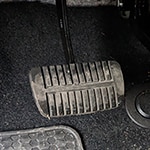 As a driver in Ontario, CA, you need to give your brake pedal attention from time to time to ensure it continues to be reliable and operates safely. One of the main signs your brake pedal needs attention is if it starts to make different types of noises. You may start to hear grinding or squealing noises. This may be accompanied by a burning smell that you notice in the cabin.
The car can also start to shake and vibrate when you apply pressure to the brake pedal. In some cases, the car can even start to move to the right even as you attempt to drive straight. This can increase the risk of getting into a collision.
Another sign your brake pedal requires a repair from our service team here at Volvo Cars Ontario is if it doesn't feel firm. You may notice the pedal feels more like a sponge or feels squishy when you press on it.