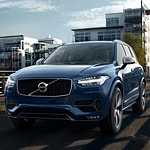 If you are looking for a high Style vehicle that offers premium exterior features, check out and do the Volvo XC90 at Volvo Cars Ontario! We love showing off all of the exterior features that go with this premium luxury SUV.
The exterior of the Volvo XC90 has tinted windows as well as a panoramic moonroof with power shade. If you are interested in going on long trips, the panoramic moonroof is an excellent exterior feature for travelers. This moonroof or not only allows you to let in an incredible amount of fresh air for you and your passengers, but you also won't be blinded by the Sun.
The exterior also features integrated roof rails which are a great addition because you won't have to hassle with extra-large items in your vehicle. Just get a carrier, and you'll be able to carry it on the top of the Volvo XC90.