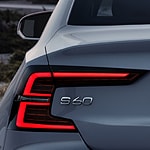 Protecting your favorite people and things is your priority and ours. Our Volvo Cars Ontario team constantly searches for vehicles that help our customers travel as safely as possible. The Volvo S60 is a mild hybrid sedan with multiple safe performance features.
All-wheel drive (AWD) is a driver favorite because of the driving versatility it promotes. The S60's AWD places all four wheels on the ground for maximum traction. When it's time to speed things up, this operating system enhances your stability.
Intelligent safety assist is an S60 hallmark designed to protect you on every journey. This suite of safety features helps give you the information needed to make informed choices while driving and the power features needed to help you maneuver some common driving challenges. Ontario-area drivers can sample S60 emergency steering support, braking, and alerts during a test drive.