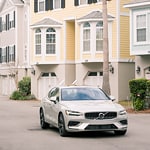 The Volvo S60 is a vehicle that is known for its style, performance, and safety. But what about its interior features? In this blog post, we will take a comprehensive look at everything the Volvo S60 has to offer inside the cabin. From the comfortable seats to the intuitive infotainment system, we will cover it all!
-Radio and Audio: The Volvo S60 comes standard with a nine-speaker audio system. This can be upgraded to a 12-speaker system if desired. Either way, you will enjoy clear and crisp sound quality from your favorite music sources.

-Comfortable Seating: No matter which trim level you choose, the Volvo S60 comes with comfortable and supportive front seats. The leather upholstery is both stylish and practical, as it is easy to clean and maintain.

-Intuitive Infotainment: The Volvo S60 comes with an intuitive infotainment system that is simple to use. The large touchscreen display is easy to read, even in direct sunlight. There are also physical buttons and knobs for the most commonly used functions.