Compare the Volvo XC90 vs. Audi Q7
Deciding which luxury SUV to bring home can be difficult when there are so many options, but here at our new Volvo dealership in Ontario CA, the Volvo XC90 for lease near Riverside is the optimal choice. When compared to the competition, the XC90 not only holds its own, but it surpasses the competition with ease. Comparing the Volvo XC90 and the Audi Q7 may seem like no contest, but there are numerous ways each one can give you impeccable style and exciting performance. Deciding which is right for you may seem tough at first, but when you get down to it, there is no competition between them. The Scandinavian design of the Volvo XC90 goes up against the German styling of the Audi Q7, and deciding which to bring home may be easier than you think.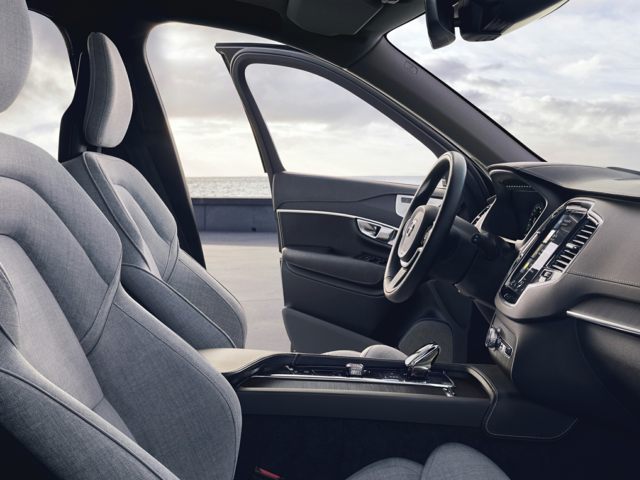 Safety Technology
You want features like Automatic Braking After Collision, 360-Degree Surround View Camera, Blind Spot Information System with Cross-Traffic Alert, and City Safety Collision Avoidance Technology in your luxury SUV near Corona. So, why doesn't the Audi Q7 offer these features standard when the Volvo XC90 does? In most cases, any safety features you get in the Q7 are available as part of a package for extra, while the Volvo XC90 gives you features like Lane Keeping Aid, Pilot Assist Driver Assistance System with Adaptive Cruise Control, and Rear Collision Warning for much less than the Audi Q7 will charge you.
Comfort & Convenience
When you want to spread out in your luxury SUV, Riverside drivers can expect to find more inside the Volvo XC90. You can enjoy 14.2 cubic feet behind the third row and up to 69.6 cubic feet behind the front row, while the Audi Q7 can only give you 15.8 cubic feet and 85.7 cubic feet, respectively. You also can expect to find leather seats in both models, but the Q7 doesn't give you four-zone climate control as a standard feature like the XC90 does. Not only does it fail at offering the same features on the base level trim, but the Q7 also costs thousands more than the XC90. You'll also be amazed at how little you can get in the Q7 despite its larger price tag, including features like Graphical Head-Up Display, Keyless Entry, Navigation System, and smartphone integration from Apple CarPlay and Android Auto that the XC90 can offer you for less.
Performance & Efficiency
If you are looking for speed and efficiency, then the Volvo XC90 near Rancho Cucamonga is your pick because not only does it have a higher top speed than the Q7, but it also accelerates faster. The Audi Q7 also doesn't offer a hybrid option, and the Volvo XC90 not only can give you superior efficiency with the available T8 2.0-liter DOHC hybrid system, but it can offer more horsepower than any Q7 engine available. Imagine getting 400 horsepower and 28 mpg highway in the Volvo XC90, then ask why the Audi Q7 can only offer a maximum of 335 horsepower and 25 mpg highway. All engine options on the Volvo XC90 can give you better efficiency than the Audi Q7.
If you're interested in learning more about the Volvo XC90 and how you can bring it home, contact us or visit to browse our new Volvo model inventory at your convenience. We're ready to help you find the right Volvo lease or loan solution, so reach out with questions that you might have and let our team give you a first-class experience while you're here and for each additional visit.
Hours
Monday

7:00 AM - 7:00 PM

Tuesday

7:00 AM - 7:00 PM

Wednesday

7:00 AM - 7:00 PM

Thursday

7:00 AM - 7:00 PM

Friday

7:00 AM - 7:00 PM

Saturday

Sales 8:00 AM - 7:00 PM Service 8:00 AM - 4:00 PM

Sunday

10:00 AM - 6:00 PM Sales Only