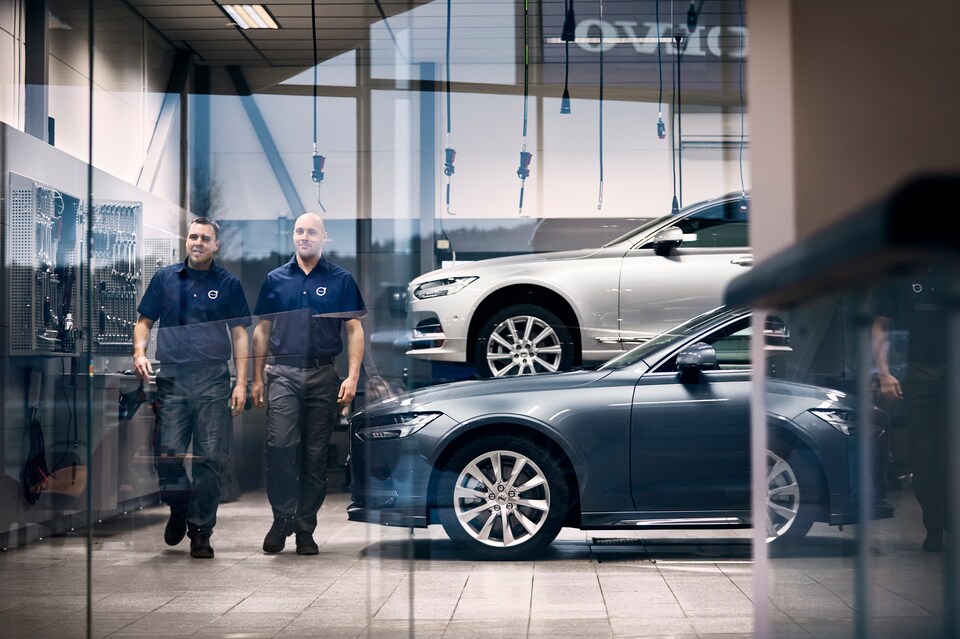 Your privacy is important to us.
Volvo Cars Ontario takes your privacy seriously and does not rent or sell your personal information to third parties without your consent. Read our privacy policy.
Volvo Cars Ontario Offers High-Quality Car Maintenance For Your Volvo Vehicle
When you're driving a stunning, high-performance, and luxurious Volvo car or SUV, you'll want to ensure that it receives the best possible care, especially when it's being maintained or repaired. Our Volvo Cars Ontario service center is equipped to handle whatever type of car service you need and our technicians know exactly what to do in every vehicle maintenance situation. Our main goal is to help our Riverside, Corona and beyond drivers receive the high-quality, quick, and honest car maintenance and repairs that they deserve.
What Type Of Vehicle Maintenance Do We Perform?
Whether your Volvo XC60 needs an oil change or your Volvo S90 requires a transmission repair, our service center is here to help. We offer many different vehicle services, ranging from simple routine maintenance, such as tire rotations, brake inspections, and fluid checks, to larger repair issues, and we work hard to get you in and out of our shop as quickly as we're able. Does your Volvo XC90 need new brake rotors? Is your Volvo S60 due for its inspection? Did the check engine light come on your Volvo V90 Cross Country and you're not sure why? Schedule an appointment and let us take a closer look.
OEM Parts To Replace Your Old Ones
At Volvo Cars Ontario we only use genuine OEM Volvo parts and accessories during our car service appointments. We know that these parts will fit best within your Volvo vehicle and will help it achieve a long-lasting life. Whether you're having your oil changed or adding an exterior accessory, our OEM parts will keep your Volvo car the Volvo brand.
Save Money With Our Service Specials
We understand that servicing your vehicle can be expensive and we want to help our Rancho Cucamonga, Ontario CA, and beyond drivers save as much money as they can on their car service. Offered on a rotating schedule, our service specials help you keep more money in your pocket while your Volvo car or SUV is fixed and prepared to safely take you on your next adventure. You never know what type of service special you're going to find, so we suggest checking back often and taking advantage of the specials when they do appear.
Schedule Your Service Appointment Online
To better serve our California customers, we offer an online service scheduling tool that allows you to choose the right date and time for your busy schedule. Log into your account, have us find you in our system, or start fresh with a brand-new account, input what type of car service you require, choose when you'd like your appointment, and submit. It's that easy and can be done from anywhere, at any time!
Contact The Service Center At Volvo Cars Ontario To Learn More
If you have questions about your SUV service or you would like to talk to one of our technicians, feel free to contact us, either via phone, online, or email, or stop by our Volvo Cars Ontario dealership. We are available to take a look at your car, truck, SUV, or van, can help you navigate our many service specials, and would love to repair or maintain your Volvo car or SUV today!
Hours
Monday

7:00 AM - 5:00 PM

Tuesday

7:00 AM - 5:00 PM

Wednesday

7:00 AM - 5:00 PM

Thursday

7:00 AM - 5:00 PM

Friday

7:00 AM - 5:00 PM

Saturday

8:00 AM - 4:00 PM

Sunday

Closed